The following study is based on data made available to CarBeast, provided by our business partners.
Our data analysis suggests that some Diesel Dodge Ram Chassis Cab vehicles have an elevated occurrence of replacements of the Nitrogen Oxide (NOx) Sensor. The NOx sensor is an integral part of the Selective Catalytic Reduction (SCR) system. The SCR system injects Diesel Exhaust Fluid (DEF) to control the amount of Nitrogen Oxides in the vehicle's exhaust emissions.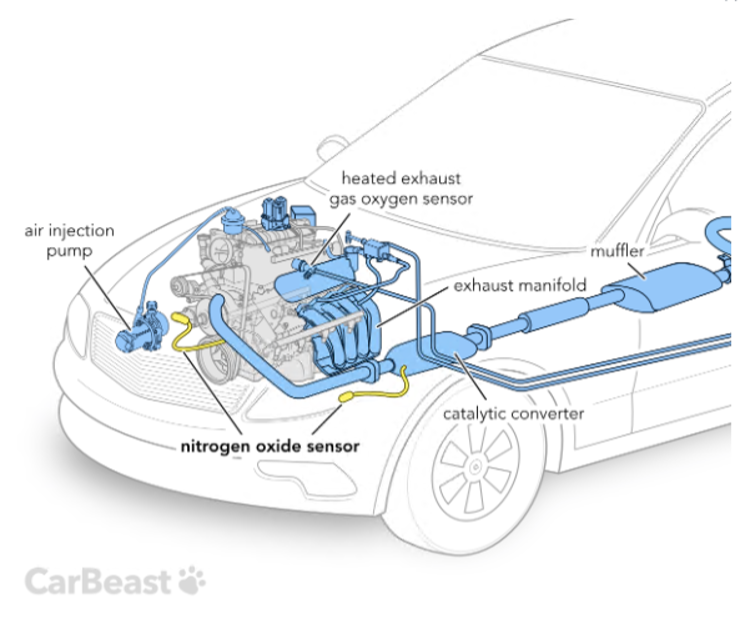 The problem is seen primarily in the 2011/2012 Chassis Cab models of the Dodge Ram truck. The cost of this repair is about $650, but can vary depending on:
Zip code
Use of OEM vs aftermarket parts
If the repair is performed at a dealership vs third-party repair sshop
Associated Symptoms
The problem could present itself in the following ways:
Check Engine Light/DEF Light comes on.
Vehicle not starting – DEF Message displayed
Additionally, an OBD reader may show the codes P2201/P229F.
CarBeast Data
CarBeast uses repairs data from various repair locations across North America, sourced from our business partners. Our database has hundreds of millions of repair records across most vehicle makes and models.
Using NLP technology, CarBeast automatically understands the content in each repair record. Our data shows 76 cases of NOx sensor replacement for 2011 Dodge Ram Chassis Cabs alone and 59 for model year 2012. Figure 1 is an example of such a case.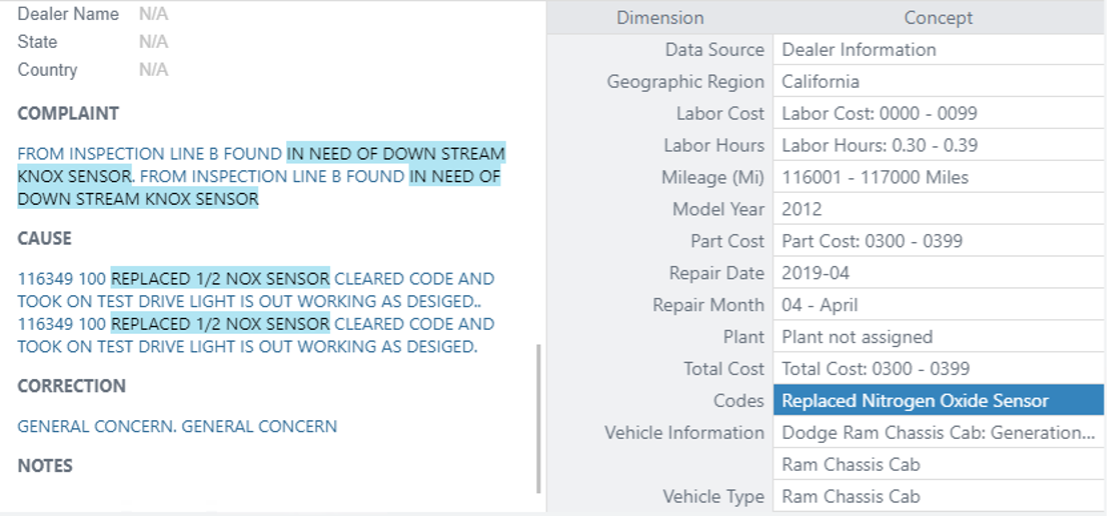 The left pane shows the notes (provided by a technician at a dealership) that describe the complaint, cause, and correction. The pane on the right shows the repair code 'Replaced Nitrogen Oxide Sensor' automatically extracted by NLP technology.
Results from Predictive and Diagnostic AI
Together with the data and NLP technology, predictive and diagnostic models power CarBeast Foresight and CarBeast Insight.
CarBeast Foresight presents a list of likely repairs by using machine learning. One of the metrics generated by the Foresight machine learning model is the hazard ratio. It indicates if a particular vehicle make, model and year is more or less likely to require a repair, compared to the general population of vehicles. The hazard ratios for 2011/2012 Dodge Ram Chassis Cabs requiring a NOx sensor replacement were found to be significantly large. This is a clear indicator that this problem occurs at a greater rate for Dodge Ram Chassis Cabs compared to most other trucks.
For a typical 2011 Dodge Ram Chassis Cab, the forecast shows a NOx sensor among the top repairs anticipated.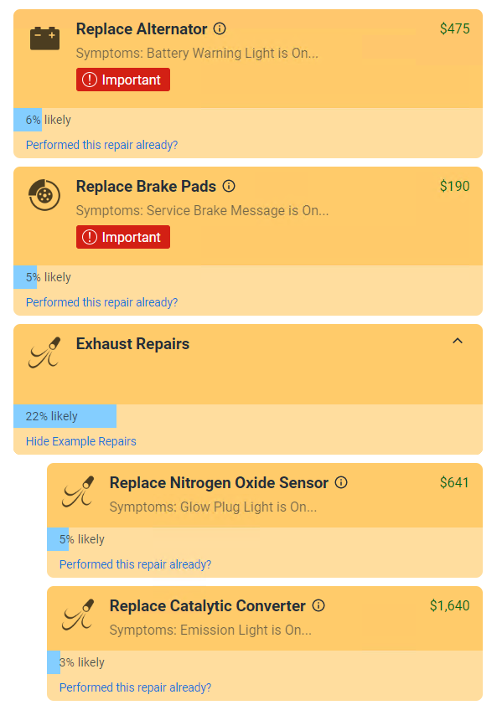 CarBeast models suggest that a Check Engine Light in a 2011 Dodge Ram Chassis Cab will very likely require a NOx sensor replacement.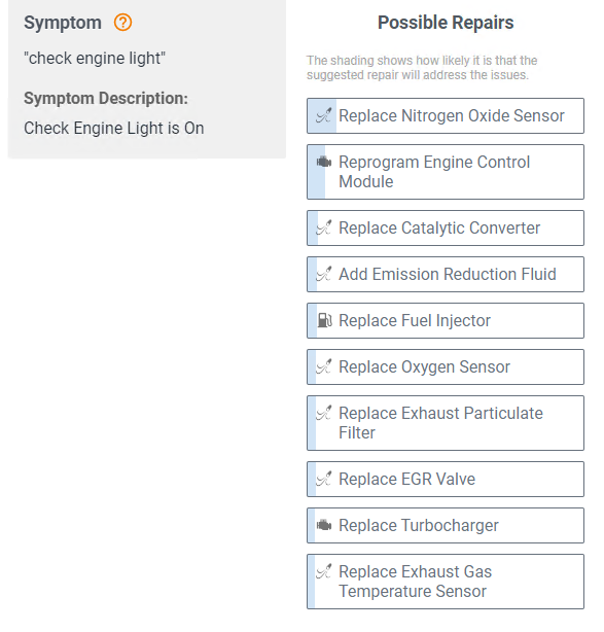 Further Analysis
A closer look at the data indicated that the NOx sensor repairs spiked for the Model Years 2011 and 2012.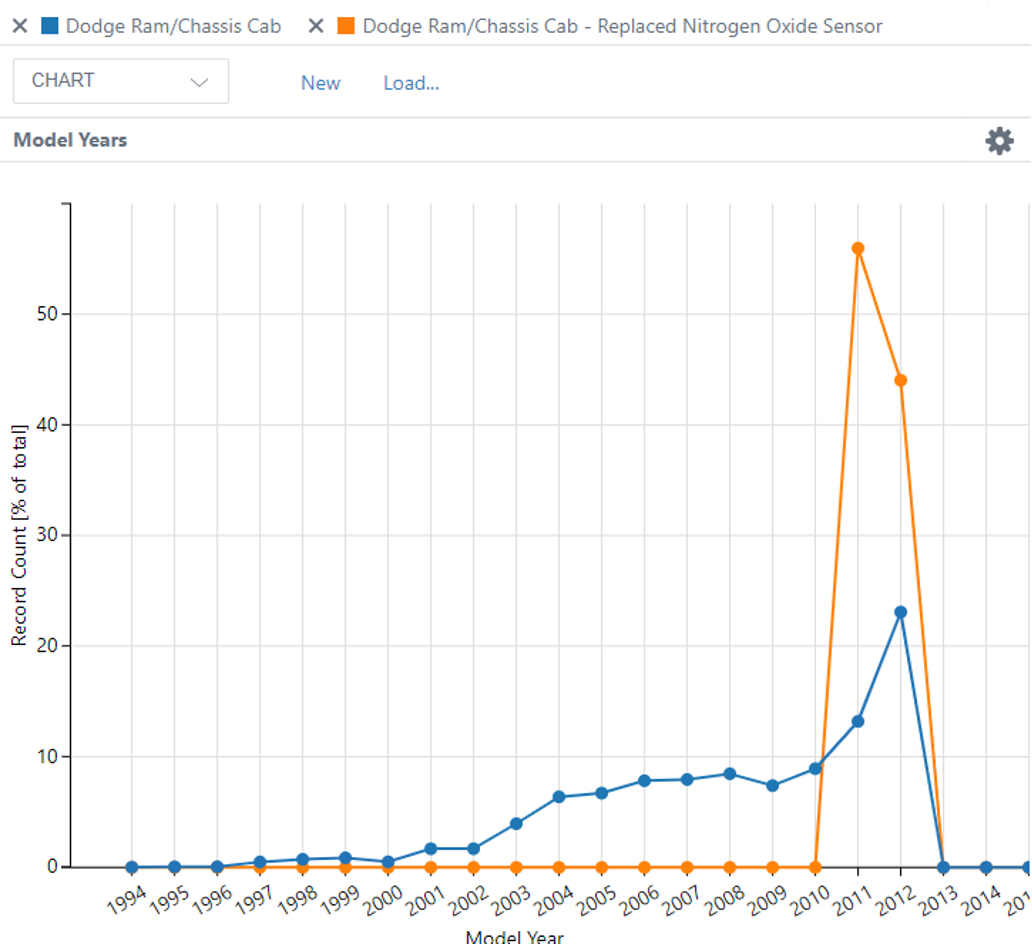 In terms of mileage, the repairs are seen to be spiking much earlier than the usual rated life of NOx Sensors (100k+ miles).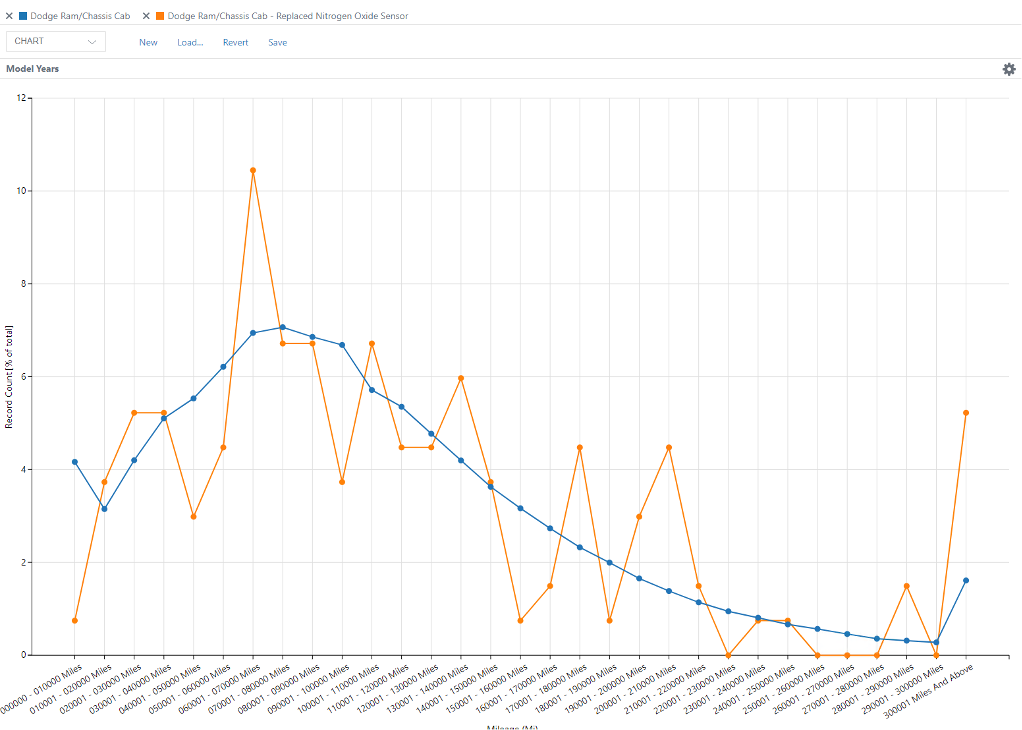 Lastly, the problem occurs more often in certain states (California, Ohio, Illinois, Indiana, Minnesota). This might indicate that it is a seasonal issue or that the symptoms are detected more in states where annual vehicle exhaust emission testing is regulated.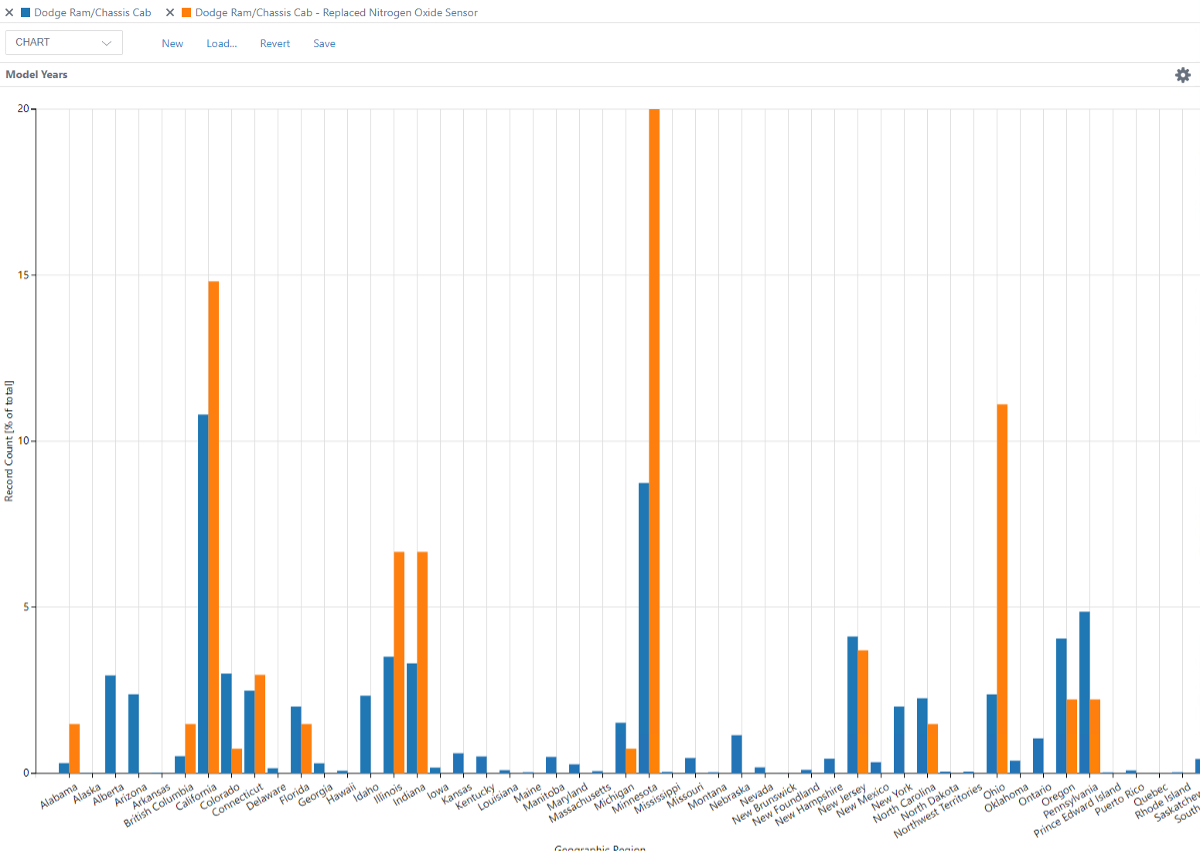 Reports from Dodge Ram Chassis Cab Owners
In addition to using data available to, and models generated by, CarBeast, we examined other sources to check for similar findings.
CumminsForum is a forum dedicated to Diesel Dodge Ram Truck owners. It shows posts from owners discussing the NOx sensor issue.
Owners have posted about requiring NOx Sensor replacements at low mileages. Others have corroborated that sometimes the issue needed repeated replacements to fix.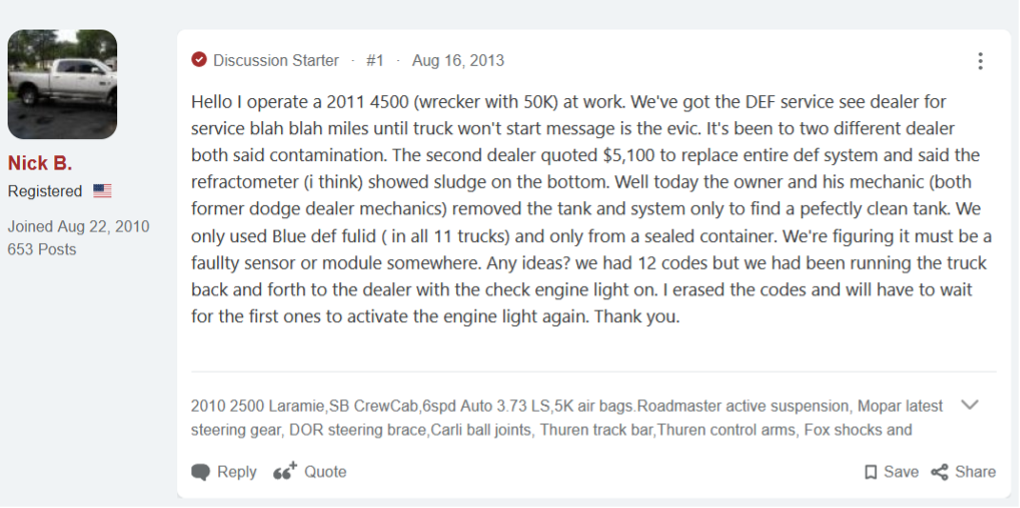 Recall Status
As of April 4, 2023, based on recall information available at NHTSA's website, there does not appear to be a recall associated with this problem.