The following study is based on data made available to CarBeast, provided by our business partners.
Our data analysis suggests that Ford Mustang vehicles have a greater incidence of problem A/C Mode Valve Actuators. A mode valve actuator, a small motor, controls the opening and closing of vents for conditioned air from the A/C to flow into the vehicle cabin. When it malfunctions, it noisily announces the problem, and of course, the airflow to the vehicle cabin is also affected. This issue seems quite common to certain model years of the Ford Mustang.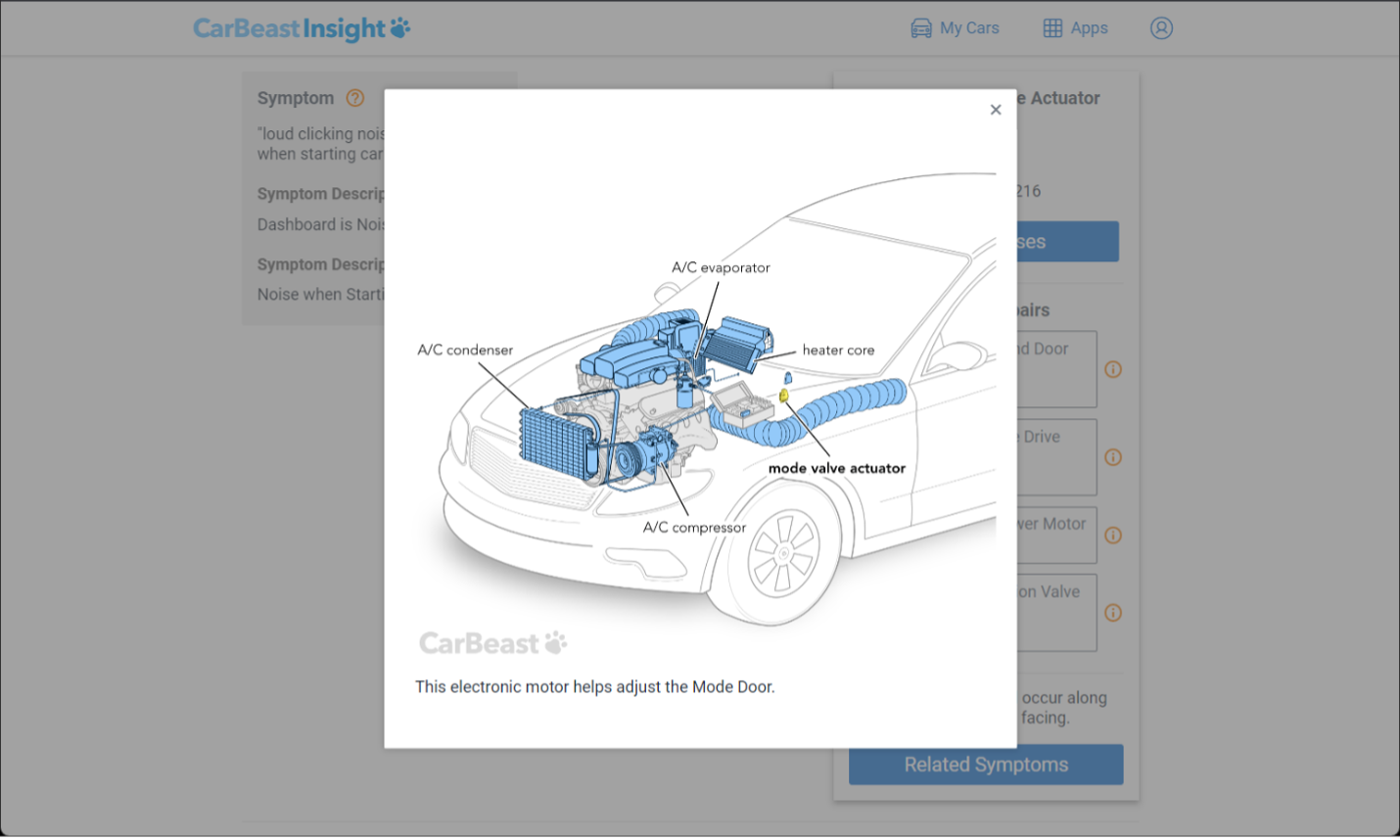 The issue arises most commonly in model years 2010 & 2011. The repair cost is about $182 for a single actuator repair, but varies depending on:
Zip code
Use of OEM vs aftermarket parts
If the repair is performed at a dealership vs third-party repairshop
Associated Symptoms
The issue presents itself as a clicking or tapping noise coming from the dashboard when turning on the vehicle or its A/C.
CarBeast Data
CarBeast uses repairs data from various repair locations across North America, sourced from our business partners. Our database has hundreds of millions of repair records across most vehicle makes and models.
Using NLP technology, CarBeast automatically understands the content in each repair record. For the Ford Mustang, our data shows about 142 cases with this issue repaired for just the model years 2010 & 2011, as compared with 252 cases of the same repair across all model years. Figure 1 provides an example of such a case.

The left pane shows the notes (provided by the technician at a dealership) that describe the complaint, cause, and correction. The right pane shows the structured symptom and repair codes ("Noise when Starting…" and "Replaced Mode Valve…") as automatically extracted by our NLP technology.
Results from Predictive and Diagnostic AI
Together with the data and NLP technology, predictive and diagnostic models power CarBeast Foresight and CarBeast Insight.
CarBeast Foresight presents a list of likely repairs by using machine learning. One of the metrics generated by the Foresight machine learning model is the hazard ratio. It indicates if a particular vehicle make, model and year is more or less likely to require a repair, compared to the general population of vehicles.
CarBeast also suggests the repair for the typical symptoms associated with the A/C Mode Valve Actuator issue in such Ford Mustangs.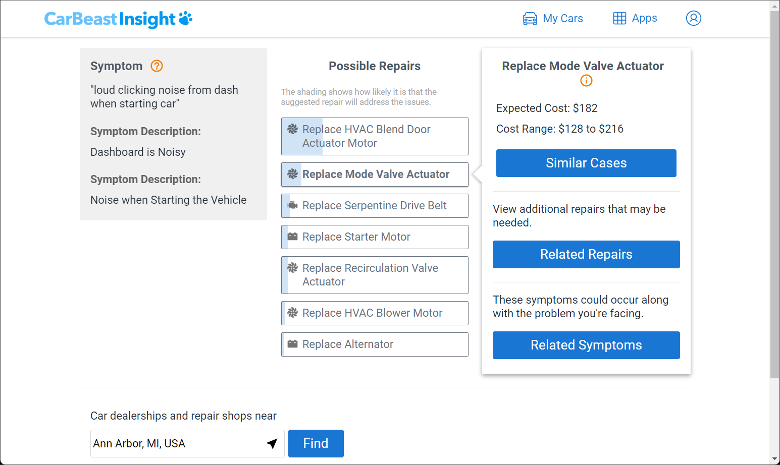 CarBeast data provides an example repair order related to this particular issue.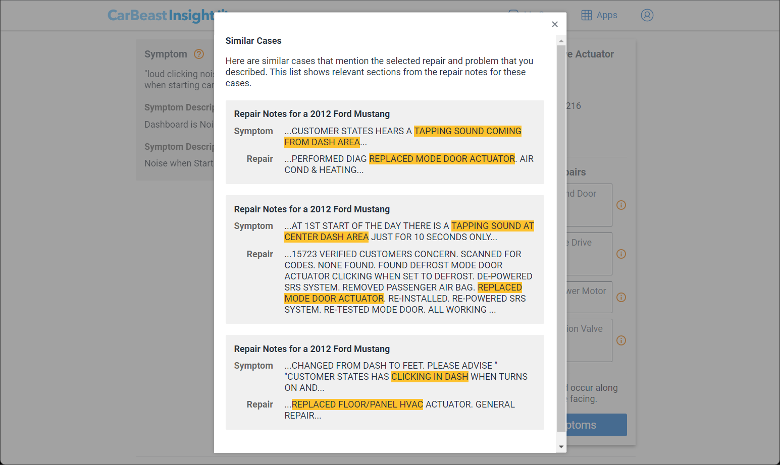 Further Analysis
A closer look at the data indicated that the throttle actuator repairs spiked for model years 2010 – 2011. Subsequent model years may have had these issues addressed by the manufacturer. Later, we see that the issue and its resolution are consistent with owners' discussions that appear on various public forums.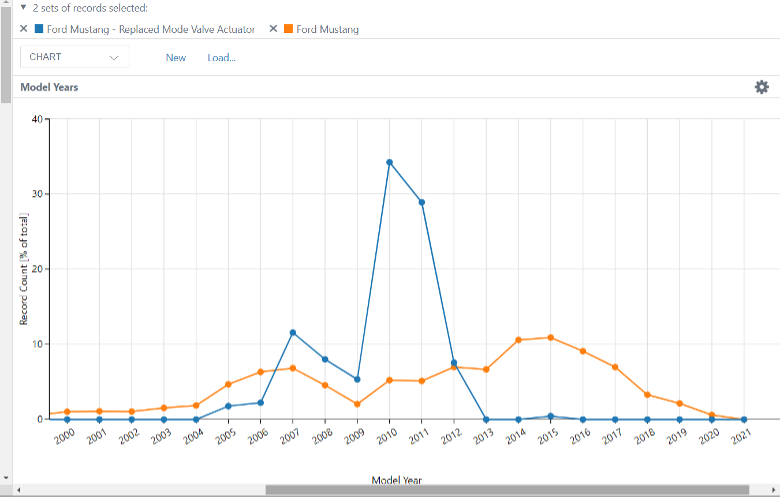 In terms of mileage, the repairs are seen to get performed starting just about when Ford factory warranty coverage would end for the Mustangs.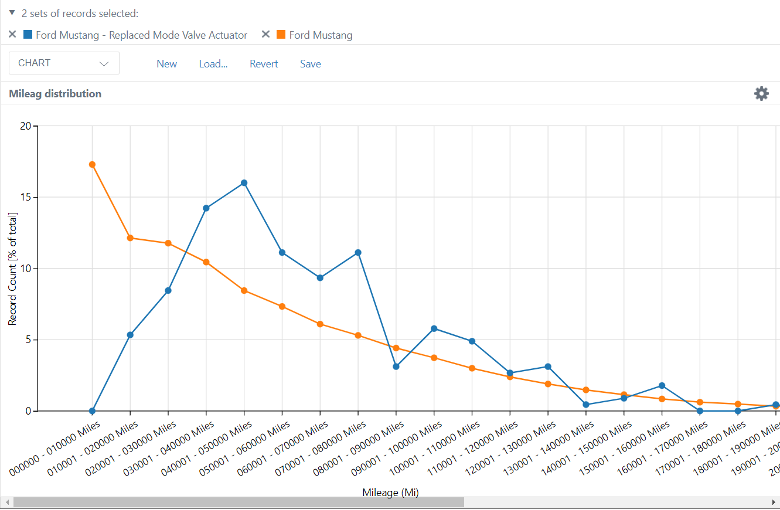 Reports from Ford Mustang Owners
In addition to using data available to, and models generated by, CarBeast, we examined other sources to check for similar findings.
At MustangForums, where Ford Mustang owners discuss repair issues for their cars, posts show discussions on this topic. In the screenshot below, a Ford Mustang owner reported symptoms related to the issue, and a different owner indicates the repair to be performed.


The same owners' forum also provides an article to guide repairs.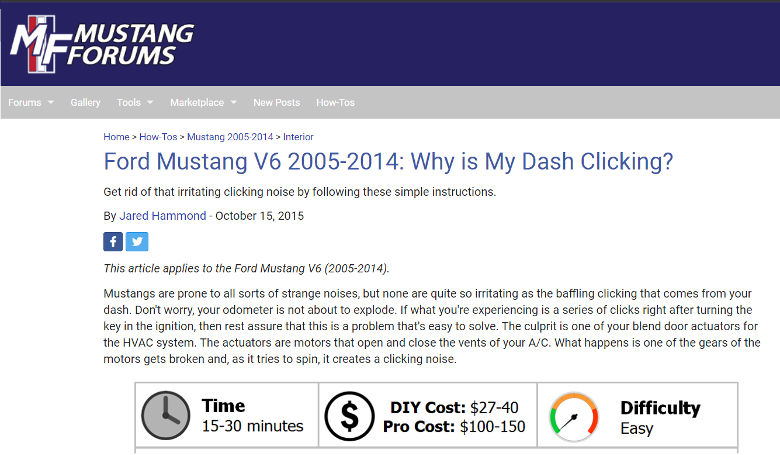 Recall Status
As of Feb 22, 2023, based on recall information available at NHTSA's website, there does not appear to be a recall associated with this problem.