The following study is based on data made available to CarBeast, provided by our business partners.
Our analysis suggests that the 2010-2012 model years of the GMC Acadia/Chevrolet Traverse/Buick Enclave have more A/C compressor/condenser hose replacements as compared to other model years, and other comparable vehicles in general.
The A/C compressor/condenser hose carries A/C refrigerant from the discharge valve of the compressor to the condenser. For the affected vehicles, this hose is developing a leak which requires replacement of the hose.
The most common indicator of a failing A/C compressor/condenser hose is the A/C blowing hot, and this can also be accompanied by a hissing noise.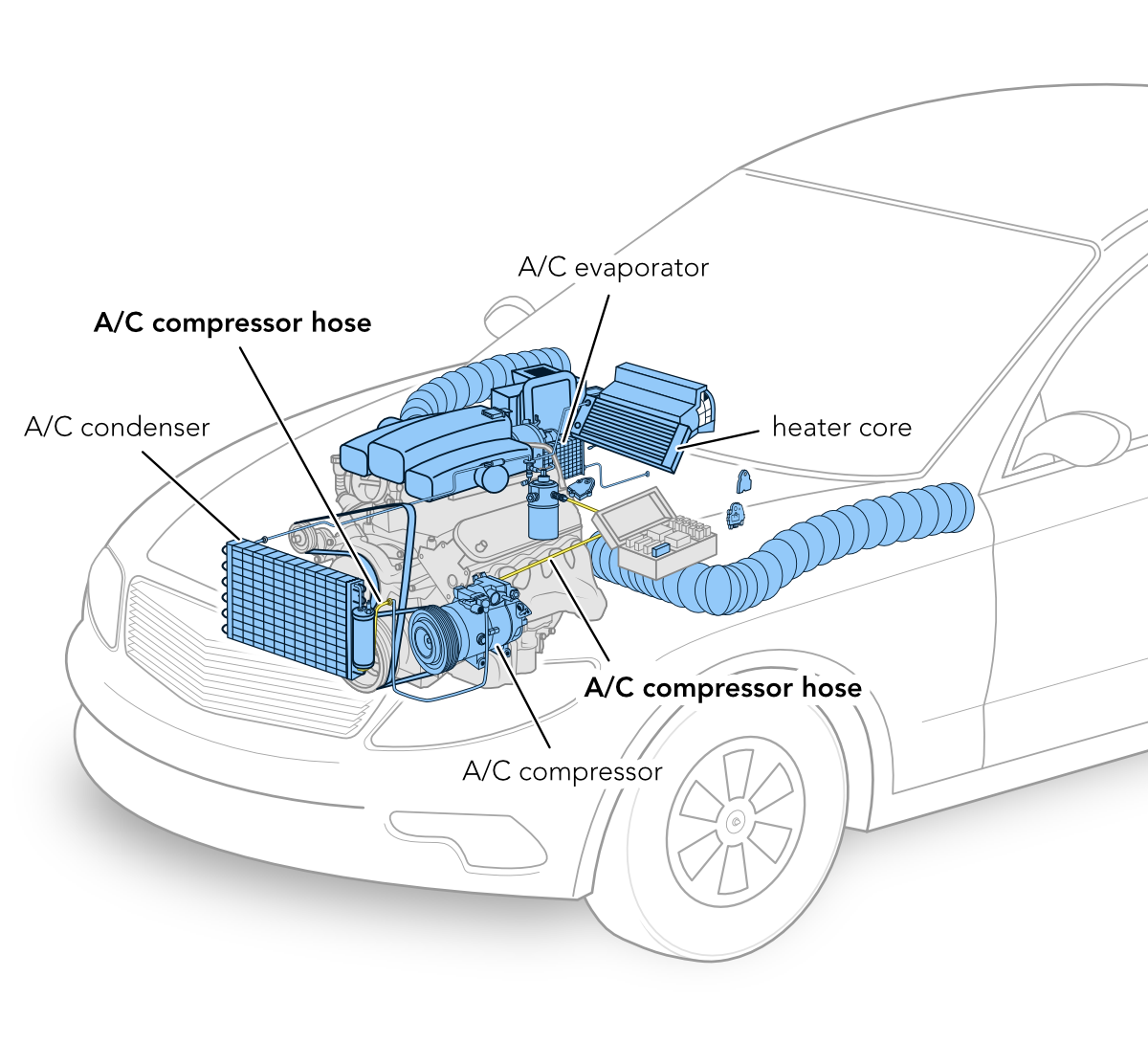 The average cost for replacing the A/C compressor/condenser hose along with evacuating and recharging the A/C system is about $420 but can vary depending on:
Zip code
Use of OEM vs aftermarket parts
If the repair is performed at a dealership vs third-party repairshop
CarBeast Data
CarBeast uses repairs data from various repair locations across North America, sourced from our business partners. Our database has hundreds of millions of repair records across most vehicle makes and models.
Using NLP technology, CarBeast automatically understands the content in each repair record. Our data shows about 779 cases of A/C Compressor/Condensor hose replacements for the 2010-2012 GMC Acadia/Chevrolet Traverse/Buick Enclave alone, and 1028 cases across all model years. Here's an example of a relevant case:

The left pane shows the notes (provided by the technician at a dealership) that describe the complaint, cause, and correction. The right pane shows the structured repair code ("Replaced A/C Compressor Hose") automatically extracted by NLP technology.
Results from Diagnostic AI
Together with the data and NLP technology, predictive and diagnostic models power CarBeast Foresight and CarBeast Insight.
When using CarBeast Insight to diagnose a problem like "AC blowing hot" for a 2011 GMC Acadia, it suggests an A/C Compressor Hose replacement as the 3rd most likely repair.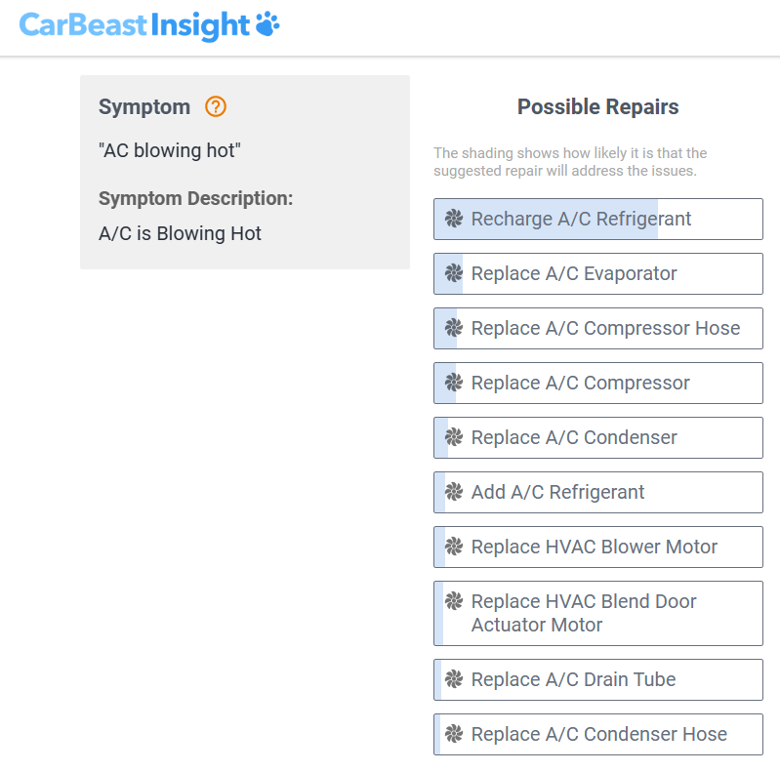 Further Analysis
Upon looking closer at the data, we see that the occurrences of this repair are much higher for model years 2010 – 2012.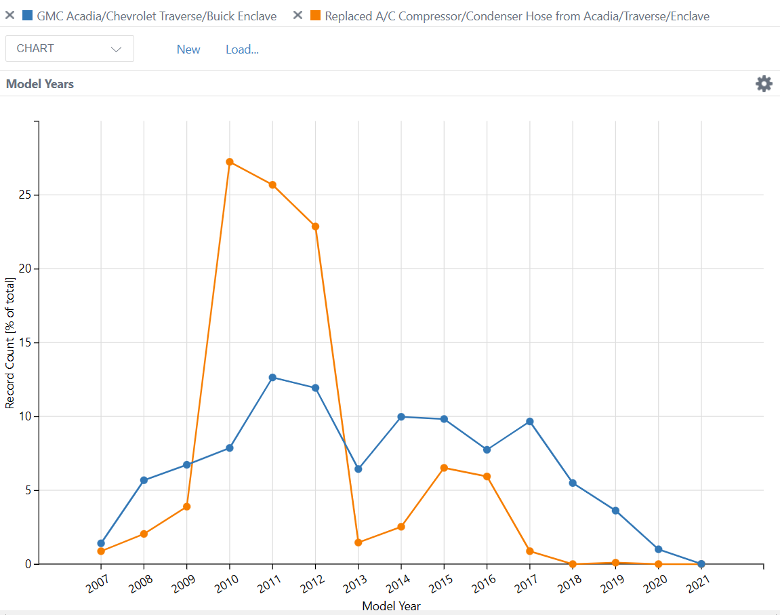 In terms of mileage, the repairs are seen to be usually performed after 20,000 miles, and often past the 36,000 mile end-of-warranty point for 2010-2021 GMC Acadia/Chevrolet Traverse/Buick Enclave.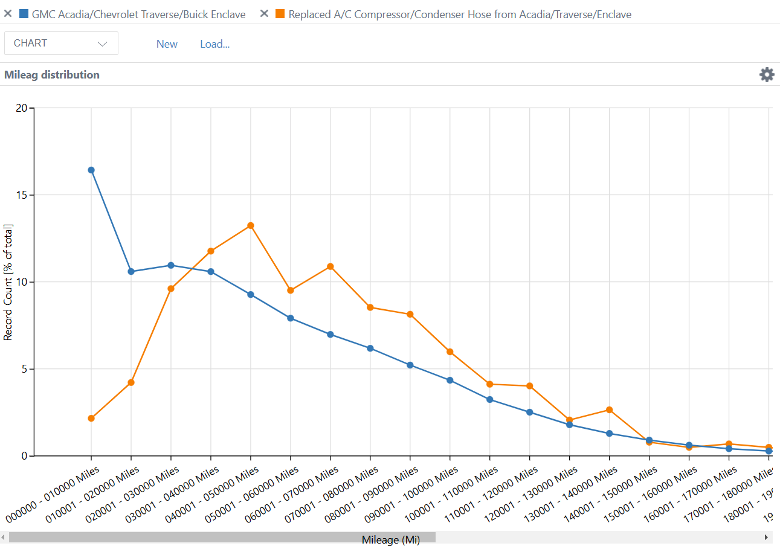 Reports from GMC Acadia/Chevrolet Traverse/Buick Enclave Owners
Besides repairs data available to CarBeast, we checked other sources for similar reports and incidents.
The website AcadiaForum allows GMC Acadia owners to share news, articles, tips and advice regarding their vehicle. Below are a couple of posts from the forums mentioning A/C compressor hose replacements.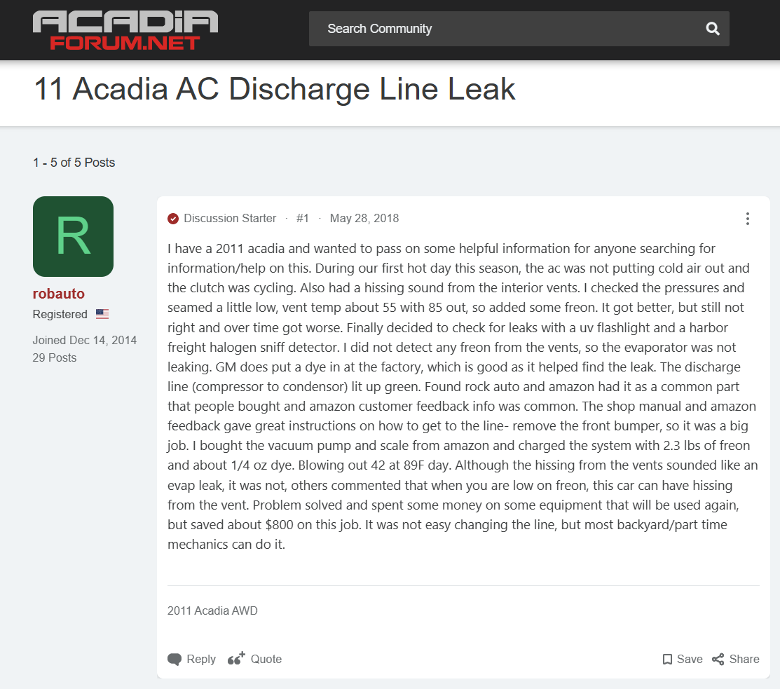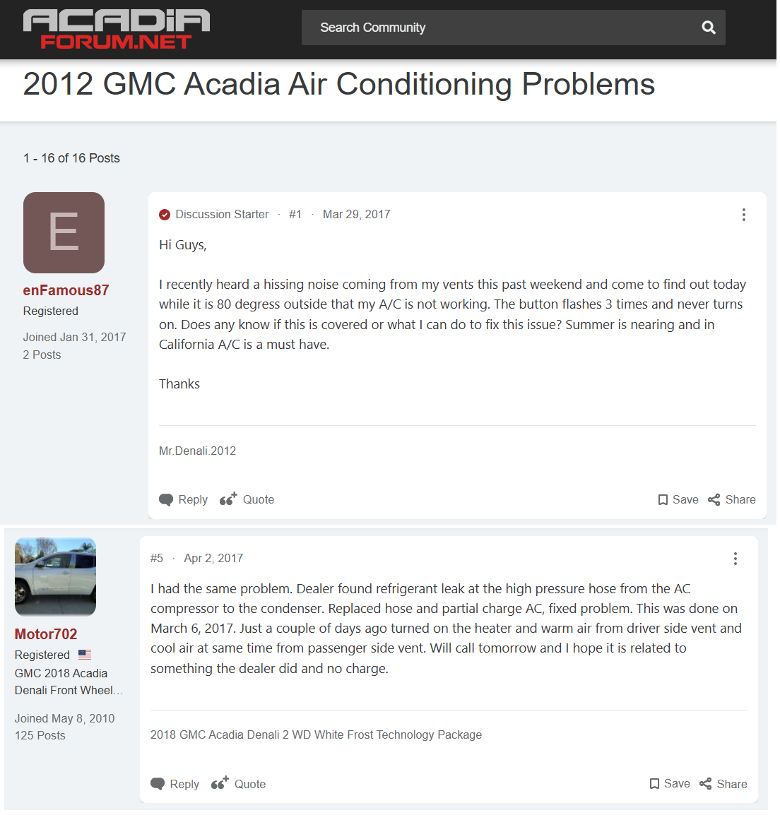 This type of repair is frequent enough that YouTube videos have been created to describe the repair process.
Recall Status
As of Dec 21, 2022, based on recall information available at NHTSA's website, there does not appear to be a recall associated with this problem.